Q War Room #9481: Work Together Edition
Anonymous
05/10/2022 (Tue) 17:04:18
No.
55455
del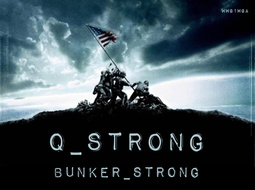 Welcome To Q Anon Research Operations
We hold these truths to be self-evident.
- All men are created equal.
- All men are endowed by their Creator with certain unalienable rights.
- That among these rights are life, liberty, and the pursuit of happiness.
We are hacktivist who deal in open-source information, reasoned argument, and meme warefare. We do battle in the digital realm of social networks. We neither need, nor condone the use of physical force. All illegal content reported. Not Liable.
VINCIT OMNIA VERITAS | SEMPER FIDELIS | PRO ARIS ET FOCIS | PRO DEO ET PATRIA
THE Q MOVEMENT IS ABOUT TRUMPING THE ESTABLISHMENT
https://youtube.com/watch?v=KVeDKuHPDK8 [Embed]
Q: The Basics - An Introduction to Q and the Great Awakening
https://www.youtube.com/channel/UCDFe_yKnRf4XM7W_sWbcxtw
Message too long. Click here to view full text.